Osteopathy
Osteopathy is a manual therapy based on the principle that structure and function are related. It aims to heal the functional disorders of human body structures and restore the balance between the body and mind. The osteopath treats the patient's body globally regardless of the symptoms, helping the body to regulate itself.
The osteopath perfectly knows the structures and functions of all organs and systems of the human body : anatomy, biomechanics, physiology and pathology.
This allows to accurately identify any violation of their mobility and the appearance of discomfort or pain. By treating the cause of the symptoms, it prevents a minor disorder from becoming, overtime, a major or even irreversible disorder.
Osteopathy is for everyone from newborns to elderly people as well as pregnant women or young mothers.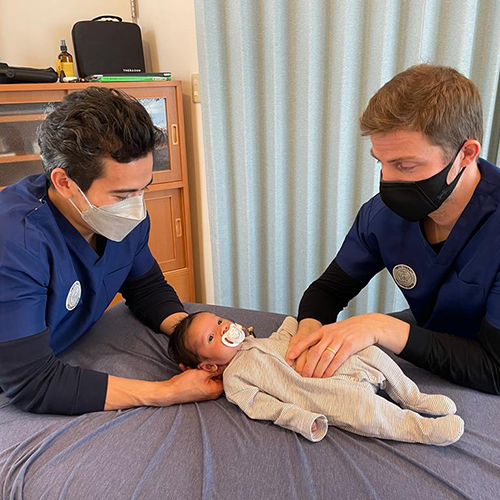 Soft tissue techniques osteopathy
The osteopathy treatment with soft tissue and myofascial release techniques aim at following the direction of movements revealed by the tissue itself.
These treatments are applied to bones, muscles, organs, nervous system, arterial/vein or lymphatic system.
The purpose of soft tissue techniques is to provide one or more complete releases.
The tissue and myofascial tensions are connected between them but they are not located necessarily where the patient feels discomfort/pain.
Structural osteopathy
Structural osteopathy describes the diagnosis and treatment of dysfunctions in the musculoskeletal system.
It focuses mainly on solving problems, related to musculoskeletal apparatus (bones, joints, ligaments and tendons, muscles and fascia).
Using manual techniques, the osteopath does not only relieve pain, but also affects its immediate cause.

4 hands osteopathy
The 4 hands osteopathy treatment follows the same process as the one-to-one osteopathy session, but it allows us to expand our options of treatment by simultaneously treating two areas of the body. It gives us double the eyes and hands to look at the problem for more accurate treatment.
We combine two complementary approaches, structural osteopathy and soft tissues techniques osteopathy (tissue and myofascial), to improve your well-being and to give the best possible results. The 4 hands treatment treats the same cases as traditional treatments but it is especially recommended in the following cases :
Chronic pain
Emergency cases
Pregnant women
Newborns
All cases that didn't find improvement with one-to-one osteopathy session.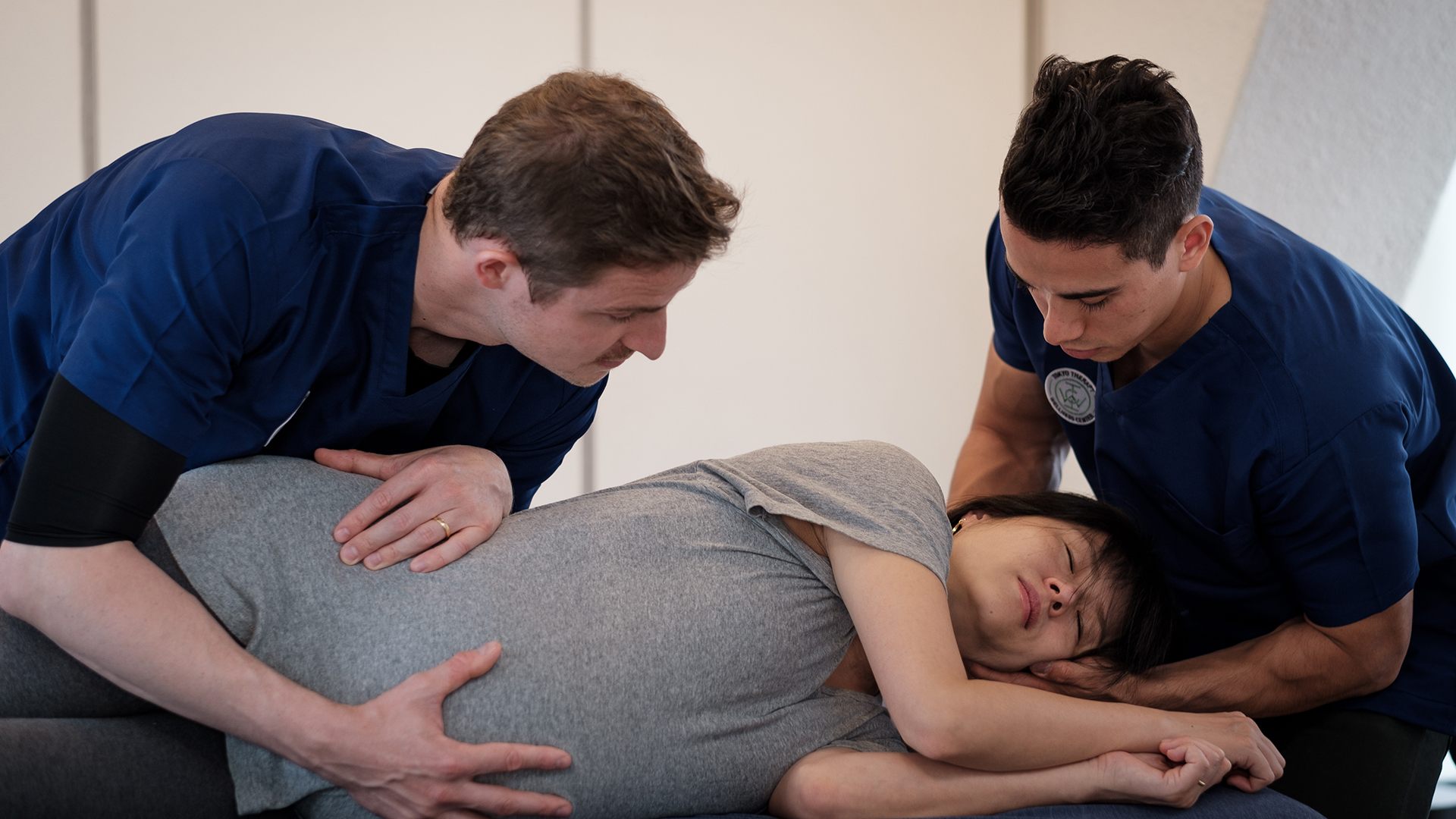 MUSCULOSKELETAL DISORDERS
Backache, joint pain, muscle tension, stiff shoulders, tendinitis, herniated disc, sciatica
PHYSICAL TRAUMA
Fall, sprain, road accident, …
FUNCTIONAL DISORDERS OF THE NEWBORN AND THE BABY
Torticollis, bad position, flattened head on one side, colic, reflux, sucking problem, sleep disorder
COLD INTOLERANCE / COLD SENSITIVITY
Hypothyroidism, Raynaud's phenomenon, anemia
ATHLETE CARE
Muscle pain, tearing, …
ENT (EARS, NOSE, THROAT) DISORDERS
Chronic sinusitis, allergic rhinitis, recurrent otitis media, tinnitus, snoring, sleeping apnea
DIGESTIVE DISORDERS
IBS (Irritable bowl syndrome ), Bloating, heartburn, gastroesophageal reflux, constipation, diarrhea, postprandrial heaviness
PREGNANCY CARE AND SUPPORT UNTIL CHILDBIRTH AND POST PREGNANCY
Presence of pain or not
GYNECOLOGIC PROBLEMS
Painful periods, PMS (premenstrual syndrome), irregular or absence of menstruation, chronic Urinary tract infections
HEADACHE, MIGRAINE, FACIAL NEURALGIA, BRUXISM
SLEEP DISORDER / STRESS / ANXIETY
FOLLOW UP AFTER SURGERY, PAINFUL SCARS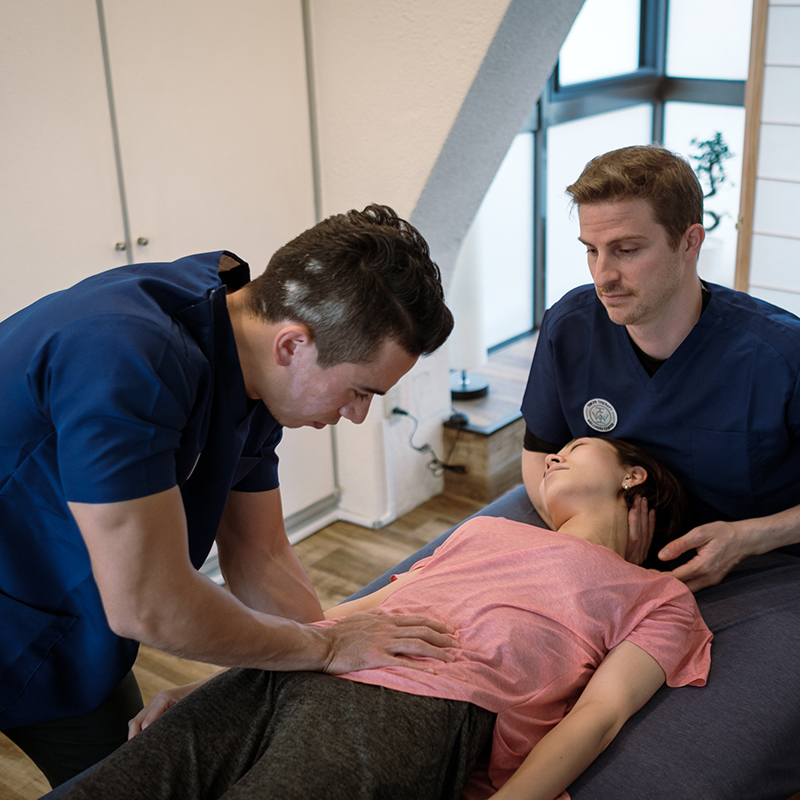 Adults : 18 000 yens
Newborns/Kids/Students : 12 000 yens
Home visits : 30 000 yens per person
Sunday and overtime : 30 000 yens per person
OPENING HOURS
Monday to Friday, 10:00-20:00
Saturday, 10:00-17:00
Cancellation policy
100% of fees will be charged if you cancel or make any changes on your scheduled arrival date or no show.